OUR PHILOSOPHY OF MOUNTAIN BIKE
This is the mecca of All-Mountain biking. MTB Safari Trail will show you the best lines, share our favorite backcountry secrets, hidden lunch stops, incredible landscapes and unforgettable moments. Undoubtedly the Serre Chevalier valley and its neighbouring valleys offer an immense playground with endless possibilities…
Rewind the clock to understand why our biking terrain is world class. Props to the military and their fort construction, with were very prominent until the 2000s. Briançon is classified as a UNESCO Heritage Site thanks to its enormous network of fortifications. Over the centuries, these sites gave birth to beautiful forest fire trails and numerous single tracks that people used to and from the forts. Add to this an abounding agricultural component since the 17th century. Men and women split their time between the high-altitude mountain pastures and the villages down in the valley. Over time these paths become perfect for mountain biking. In other words, a mountain biker's paradise.
The climbs are mostly on beautiful forest trails, sometimes on mountain roads, sometimes on uphill singletracks but each time we reach our target, it's the descents that will remain engraved in your memories as a rider
Our idea of All-Mountain is to combine physical fitness and enjoyment.  Of course, there will be tough climbs, fatigue, hike-a-bike sections…etc.  You can expect between 1200 and 2100 meters of uphill per day.  But each time your efforts will be rewarded with stunning views, breathtaking scenery, orgasmic singletrack descents, plus a guide and the best ambiance.  An incredible mountain biking experience!!!
* For lunch, several options are available depending on your choice, location and season.  If you choose the all-inclusive formula, lunch is provided.  If not, it may be possible to stop at your lodging option or picnic; all subject to the day's agenda. 

-Tour and guiding day : 65 € per pers (minimum 4 pers)
-All-inclusive week : 7 nights / 5 biking days / all meals / From 760€ per pers
-Week : 7 nights / 5 biking days / lodge / shuttle and guiding / From 575 € per pers
– Short trip : 3 nights / 2 biking days / all meals / From 315€ per pers
-Short trip : 3 nights / 2 biking days / lodge / shuttle and guiding / From 250€ par pers
To know all our prices depending the lodge level etc…

To inspire you, here are some itineraries of previous trips.  Don't worry we have many others.  Create different ride options to accommodate for differences in ability level.  The guide is free to choose the terrain according to the group, weather and trail maintenance.
WARM UP / AMPARIS ET CHEMIN DU ROY
D+ 1400M / D – 1700M  / ALTITUDE MAX 2400M / ALTITUDE MINI 1450M
By shuttle bus, we transfer to other side of the Lautaret mountain pass.  Start the day in an astounding spot discovering a magnificent plateau and its lakes, with the Meije summit looming in the distance at 3984 meters.  Down a super trail to reach the village of La Grave.  From there we join the shuttle bus that takes us to our home valley to the start of a climb, followed by a single connecting to a long, balcony trail.  Follow a medley of flat, uphill, downhill, technical and playful trails before hitting the fast descent in the lush, larch forest.  A day full of memories.
HOULALA / CROIX DE BRETAGNE, Orceyrette / Mélézin
D+ 1300M / D – 1300M  / ALTITUDE MAX 2100M / ALTITUDE MINI 1200M
By a military trail, access a fort which overlooks Briançon to reach our first descent leading us to a stunning mountain lake and our picnic spot.  From there, several possibilities present if the group has energy to spare.  If not, we will hike our bikes for 15 minutes to reach a very aesthetic trail including a balcony section to lead us to the start of an ultra-lively spot.
Landscape and bike handling skills.
AMAZING / GRANON, CROIX DE TOULOUSE AND MORE
D+ 1550M / D – 1550M  / ALTITUDE MAX 2450M / ALTITUDE MINI 1200M
During this day, which takes place in the heart of our very own valley, you'll understand the enormous mountain biking potential of our home turf.  Our ride starts with a long 1000 meter climb to reach the Col de Granon pass.  We arrive at a long descent leading us above Briancon, to numerous small, punchy climbs and flowy descents that it's impossible not to have fun.  And all this surrounded in glorious scenery!!!
WHAT A TOUR / TRAMOUILLON + MOUSSIERE
D+ 1650M / D – 2750M  / ALTITUDE MAX 2300M / ALTITUDE MINI 900M
Transfer by shuttle to a valley a little farther away but worth the detour.  For about 30 minutes, we wind our way around many curves to reach a splendid mountain pass.  Grab our bikes for a nice climb before switching to a lovely trail, technical at the start then decidedly ludic to the bottom of the valley, a long run…
Then the shuttle will pick us up, and proceed to drop us off on the opposite side to reach another beautiful spot with the diversity of the terrain reigns.  The descents will leave you smiling.  So good.  So beautiful.
VOLCANO TOUR / MONTGENEVRE
D+ 1400M / D – 1700M  / ALTITUDE MAX 2450M / ALTITUDE MINI 1300M
Off to the Italian border.  We'll start the day with a a 800 meters climb to reach a unique geological point of view.  We embark on the land of an ancient oceanic-alpine volcano.  In addition, the trails are superb surrounded by illuminating lakes worthy of film landscapes.  Ride on to the Italian mountain pass to a fast, grin-inducing descent.  From there, you'll ride to the border before attacking our second climb to access a technical and physically demanding trail that leads us to Briançon to celebrate with an ice cream or local beer.
Ma Che BELLO!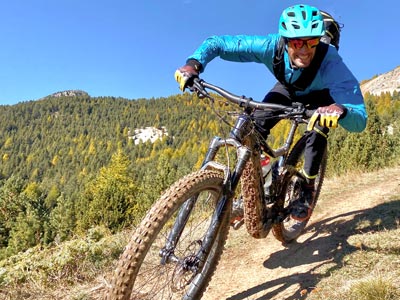 Anto
Speciality E-bike et All mountain
Born in Brittany rather than the mountains, this wise veteran began riding the Armorican trails in mode cross-country.   Having established his base camp in the Alps for over 25 years, Anthony, known as "Anto" affirms the All-Mountain itineraries through and through and in all directions.  His motto…Ride, cheese and rock'n'roll….Always ready to pull out his Laguiole pocket knife to share a snack on a beautiful vista.  Real good mountain biking and real good times are prerequisite for this pure mountain biking enthusiast.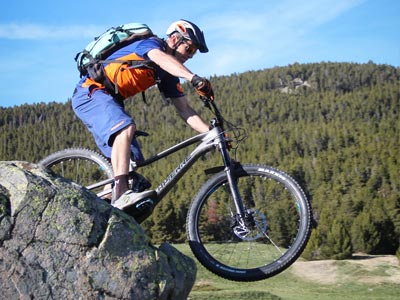 Etienne
Speciality All Mountain & enduro
Native of Briançon and passionate about the mountains and everything that comes with them, Etienne promises a genuine, pure experience mountain biking with him.   His favorite saying is "Come on!! We are almost there." Etienne knows how to motivate you, coach you and above all find the trails best suited to the level and needs of your group.  Also the history of our valleys is no secret to him.  Come on let's have some fun!!

NEED A BIKE ?
NO WORRIES…
Our partnerships with two bike shops in the Serre Chevalier Valley, allow us to offer you quality All-Mountain or Enduro mountain bike rental service.
Our guests benefit from a competitive rate and the maintenance of the mountain bike during your trip.