Serre Chevalier Valley is a strategic location for enduro and all-mountain riding.  Actually our valley is situated in the heart of the French Alps, nestled at an altitude of 1300 meters between several valleys that we'll explore all from your handlebar view.  The singletracks that we ride offer a diversity of incredible terrains, rolling or rocky plateaus, ridge top trails with breathtaking views, vast larch forests (larch is a local specialty, we even make alcohol with it, it's that good!!).  Our expertise of the region allows us to uncover unique and different spots every day.  We'll even share with you our secret trails, especially sculpted for mountain biking by our very inspired trail shapers.
In the heart of the Alps, but just at the start of the southern Alps.  That precision is important because it accounts for our very sunny climate, about 300 days of sunshine per year.  Maybe that is also why the locals are so warm and friendly!!!
In addition to the exceptional days mountain biking, you will discover the charming fortified city of Briançon which is classified as an UNESCO World Heritage Site.  Briançon is home to many bars and restaurants where you can sample our local specialities besides the ones already offered during your holiday.

For the week-long tours, we recommend taking a break in the middle of the week to rest and furthermore explore other activities available in our valley, such as canyoning, white-water rafting, paragliding, via ferrata, etc.  We have personally hand-selected all the associates that offer these activities…

The following airports are the closest: Turin, Milan, Lyon and Geneva.  Shuttle transfers are available from your chosen airport at an additional price (between 50-100€/pers.) depending on the number of people and location. 
By car, the Italian motorways or those coming from Grenoble are your best bet before climbing the mountain passes that lead you to the heart of your trip.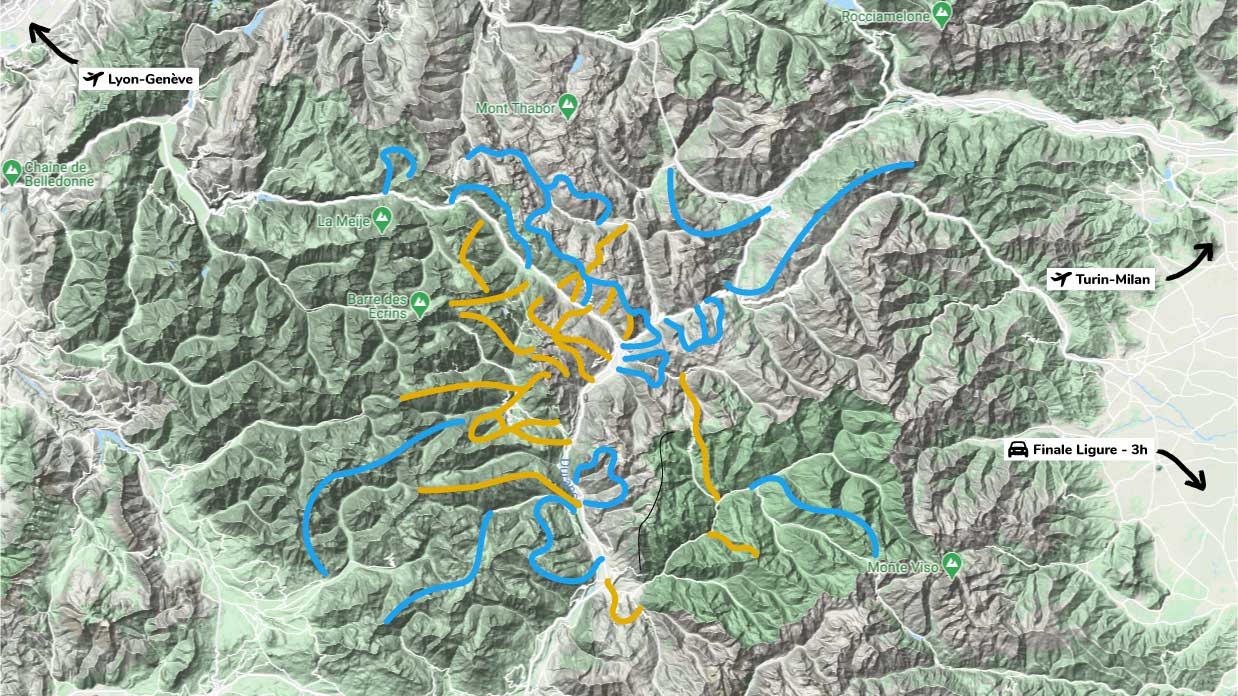 NEED A BIKE ?
NO WORRIES…
Our partnerships with two bike shops in the Serre Chevalier Valley, allow us to offer you quality All-Mountain or Enduro mountain bike rental service.  For this season, we have partnered with the Commencal and Trek.  Our guests benefit from a competitive rate and the maintenance of the mountain bike during your trip.
Below are the Commencal bikes available:
META TR 29 ORIGINS
Indicative price for 5 days : 220 €
META POWER 29 ESSENTIAL
Indicative price for 5 days : 290 €
META AM 29 ORIGINS
Indicative price for 5 days : 270 €
META AM 29 OHLINS
Indicative price for 5 days : 290 €
META AM 29 ESSENTIAL
Indicative price for 5 days : 220 €