Shapes and Enduro trails
E-bike
and classic
This is the real enduro…with shuttle rides, a local mb guide and those wow moments on your mountain bike and with fellow riders. Expect a maximum amount of downhills during the day. The negative difference in altitude will depend upon the group, but we could do up to 6000 meters of descent per day. Our runs are strategically chosen to mix peddling and mtb shuttles. We'd rather be biking than riding a shuttle. Every day will be different and varied regarding the terrain, landscape and technique. The idea is to ride one or two spots per day to optimise the time on your bikes and satisfy all bike enthusiasts. Of course, we will pedal to the trail head or between trail connections.
If you are here when the lifts are are open, we will use them to access even more trails. As far as the terrain is concerned…well how do we put it…they will be as rich and diverse as your trip. Overall, your enduro holiday will feature a mix of smooth and rolling single tracks, technical sections, rocky gravel, a few jumps, weaving throughout the forest and even some fresh, unique trails crafted by our trail shapers.
VTTAE – E-BIKE – MTB
Enduro shuttle day 85 € / person
Enduro shuttle Week-end from 160 €
All-inclusive trips from 850 €
And more
Various lodge options : gîtes / Chalet / appartements, CONTACT US
Our sessions take place every day from early may to end of october
Possibility to book private sessions, contact us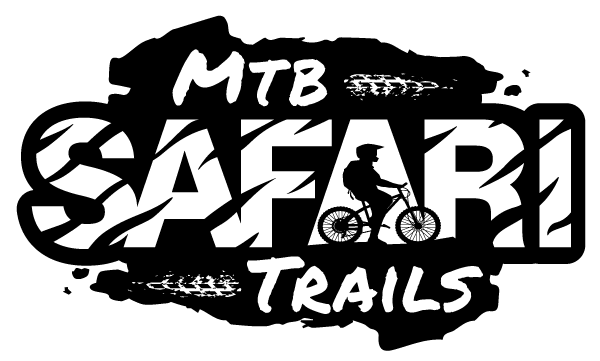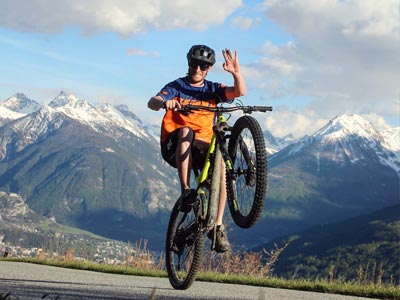 GABY
Speciality Enduro and All Mountain
Gaby, 32 years old and passionate about mountain biking from a young age. He was active in both clubs, cross-country and trials before focusing on the mountains, enduro and all-mountain. Fan of endurance, he is partial to long climbs, as well as technical descents and never short of a good joke.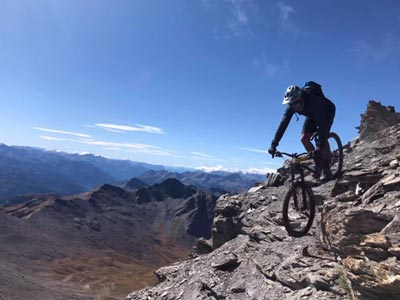 GREG
Speciality Enduro and All Mountain
32 years old, Greg has been living in the Alps since his childhood. After ten years of participating in downhill and enduro competitions, he passed his mountain biking guide certification to share his passion with others. He'll show you some of the most beautiful enduro and all-mountain trails in our area and he even keeps a few surprises up his sleeve!!! "For me, the most important thing is to be outside breathing the pure mountain air, admiring our landscapes and having unforgettable moments on our beloved bicycle."
As you will see, we have named our excursions because that is what they represent to our guides. We will tell you a little more about each of them but not too much. The itinerary listed below is just an example. We have many more options. The guide is free to choose the terrain according to the group, weather and trail maintenance.
WARM UP / SPOT : PUY CHALVIN
D- 3100 / D+ 650 Start the day off by a 15 minute drive to a nearby valley. Warm up with a calm climb which leads to an ultra playful canal trail before diving in to a superb single. Then follow a series of trails alternating between larch forest, rocky ground, switchbacks galore and pine forest. In short, a beautiful day and a sneak peek to the what awaits you throughout the week.
JUST FOR PLAY / PUY ST VINCENT
D- 3300 D+ 980 After a 20 minute shuttle ride, kickoff some incredible trails in another neighbouring valley. Ride mostly in larch forests and balcony trails which allow us to roll fast, very fast! Pure pleasure! Then ride a brand new trail crafted by our inspired trail shapers. A tremendous day on idyllic trails.
TURN ME ON / GRANON
D- 4500 D+ 650 In the heart of our valley, this one is an unforgetable day. After a short warm-up on some classic but worthy trails, we'll attack the serious stuff…epic balcony descents, uphill climbs with beautiful scenery, sharp turns, flowy tracks, pine forest, dry terrain and unique trails specifically designed for mountain biking. Happiness guaranteed.
SMOOTH AND FLOWY / QUEYRAS
D- 3500 D+ 800 Altitude max : 2450 / Altitudes mini : 1400 Let's go!!! We change valleys to reach a mythical mountain biking spot. A stunning location with larch trails that are fluid and playful even sometimes technical. You'll be amazed !!
HUGE AND CRAZY / EMBRUN
D- 4300 D+ 650 Altitude max : 1700 / Altitudes mini : 790 This time we'll take you a little farther, a 45 minute shuttle ride. Discover a completely different terrain with the Serre Poncon lake as a stunning backdrop. The trails are numerous and many are designed by fellow mountain bikers, some used by former professionals as their training ground. If the weather permits, we can even take a dip in the lake…don't forget your swimming trunks.